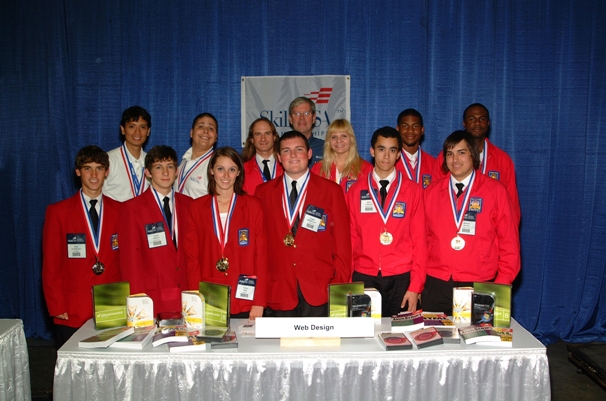 Front row from L to R (teams of two)—High School Silver medalist team from Cleveland High School (Tenn.)—Don Humphreys and Tyler Sherlin; High School Gold medalist team from Carson High School (Nev.)—Lydia Peri and Clark Milholland; High School Bronze medalist team from Communications Academy (Wash.)—Jesse Garrison and Wilson Rector. Back row L to R (teams of two)—Postsecondary/College Silver medalist team from Manatee Technical Institute (Fla.)—Dante Valenzuela and Shane Denizard; Postsecondary/College Gold medalist team from North Valley Occupational Center (Calif.)—Thomas Kugler and Heather Blake; and Postsecondary/College Bronze medalist team from Atlanta Area Technical College (Ga.)—Marcus Wilson and Kenneth Baldwin.

Team North Valley Occupational Center and Carson High School Win Top Honors at National Web Design Competition Kansas City, MO June 23, 2007.
The World Organization of Webmasters (WOW) announces that team North Valley Occupational Center from Los Angeles, CA won the Gold Medal award in the college division and Carson High School from Carson City, NV won the Gold Medal award in the high school division. The annual event was held in conjunction with the 2007 SkillsUSA National Champion event in Kansas City. MO.
The Web design competition challenged high school and college students to work in teams to build Web sites for a non-profit agency. Participants documented their progress as they demonstrated their skills in Web Programming (HTML, XHTML and CSS), Web graphics, Web site design and usability, Web site management, project management, Web multimedia and professionalism.
A panel of experts selected from WOW's nationwide Certified Professional Webmaster (CPW) Web professional community, based their winning selection on the following criteria developed by WOW:
* Graphics: Overall Visual Appeal
* Graphics: Mechanical Aspects
* Design and Layout: Look & Feel
* Design and Layout: Navigation
* Programming: Compatibility
* Programming Code Structure & Design
* Scaffolding of Process – Diagram/Flowchart
* Richness of Process – Interview
* Written Exams
* Professionalism – Interview and Submission
Additional winning teams included:
High School Division
Silver: Cleveland High School, Cleveland, TN.
Bronze: Communications Academy, Vancouver WA.
College Division
Silver: Manatee Tech Institute, Ellenton, FL.
Bronze: Atlanta Area Technical College, Morrow, GA.
Winning prizes were generously provided by the following list of contributors:
* Adobe Corporation
* Microsoft
* The Art Institute
* Boston University
* The World Organization of Webmasters
What is SkillsUSA?
A national organization serving more than 264,500 high school and college students and professional members enrolled in training programs in technical, skilled, and service occupations, including health occupations.
Where is It?
In high schools and college/technical schools. SkillsUSA has more than a quarter million student members annually, organized into 13,000 chapters and 54 state and territorial associations (including the District of Columbia, Puerto Rico, Guam and the Virgin Islands).
What's the point of it all?
SkillsUSA prepares America's high performance workers. It provides quality education experiences for students in leadership, teamwork, citizenship and character development. It builds and reinforces self-confidence, work attitudes and communications skills. It emphasizes total quality at work, high ethical standards, superior work skills, life-long education and pride in the dignity of work. SkillsUSA also promotes understanding of the free enterprise system and involvement in community service activities.
Who is involved?
Approximately 14,500 teachers and school administrators serve as professional SkillsUSA members and instructors. More than 1,000 corporations, trade associations and labor unions actively support SkillsUSA on a national level through financial aid, in-kind contributions, and involvement of their people in SkillsUSA activities. Many more work directly with state associations and local chapters.
About WOW
The World Organization of Webmasters (WOW) is a non-profit professional association dedicated to the support of individuals and organizations who create, manage or market web sites. WOW provides education as well as certification, technical, employment and member advantage services to thousands of aspiring and practicing web professionals worldwide. For more information please visit http://www.joinwow.org