Congratulations to our 2018 national web design contest champions. We held our 15th annual national competition in Louisville, KY (June 26 – 29, 2018). We made significant changes to the competition this year. For example, this was the first year we had a dedicated server and intranet environment for competitors. Overall, we had teams from nearly 30 states compete in our contest for secondary (high school) students. Additionally, teams from nearly 10 states competed in our separate contest for post-secondary students. All competitors had to win first place in their respective states to participate in this national competition.
Winning teams – secondary competition
Gold (first place) team – South Technical High School – Sunset Hills, MO.
Silver (second place) team – Timpview High School, Provo, UT.
Bronze (third place) team – Minuteman RHS – Lexington, MA
Winning teams – post-secondary competition
Gold (first place) team – Macomb Community College– Warren, MI.
Silver (second place) team – Gwinnett Technical College, Lawrenceville, GA.
Bronze (third place) team – Guilford Tech Community College – Jamestown, NC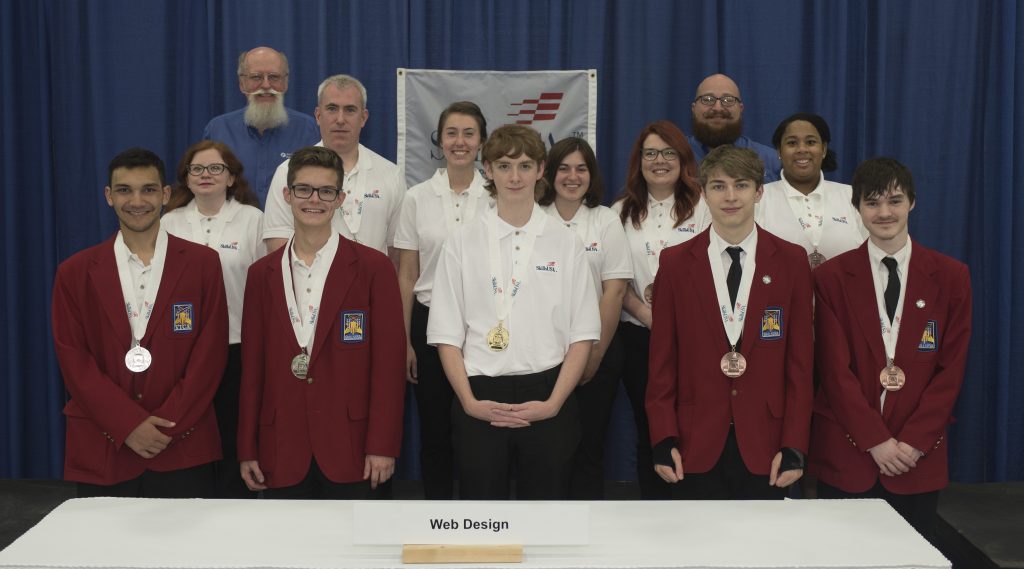 If you are reading this and are aware of a state web design contest, we encourage you to have the supervisor of that contest complete this form. We seek to have better communication between state and national web design contests held under the auspices of SkillsUSA in future years (continuing in 2019).
Throughout the competition, competitors documented their progress as they demonstrated their skills in Web Programming (HTML and  CSS), Web graphics, Web site design, Web accessibility and usability, Web site management, project management, presentation, process and equally important professionalism.
This year, we had a number of practicing professionals on site to help with coordination of the competition (and to review process and conduct interviews of each team). Many thanks to those who took the time to be with me (Mark DuBois) in Louisville.
A panel of industry experts from the Web professional community based their winning selection on the following criteria developed by the WebProfessionals.org organization (and validated by industry experts). We are very grateful for the numerous judges who helped in the competition. If you are interested in helping us with future competitions, please contact us. You do not need to travel to Louisville as we place all materials on a secure server for judges to review.
Professionalism (including a team interview)
Graphics and type (visual design)
Design and layout (UX/ UI)
Programming and code (HTML, CSS, JS)
Accessibility
Process
Written exam
WebProfessionals.org is a non-profit professional association dedicated to the advancement of webmasters and web professionals worldwide.
As key stakeholders consisting of practicing Web professionals, experienced educators, community and business leaders we have an obligation to do better. We need to challenge one another and commit to a course of action that will improve student outcomes and a better prepared work force for tomorrow's workplace needs. This is why we focus on industry "best practices."
SkillsUSA is a partnership of students, teachers and industry representatives working together to ensure America has a skilled workforce. SkillsUSA helps each student to excel. SkillsUSA is a national organization serving teachers and high school and college students who are preparing for careers in technical, skilled and service occupations, including health occupations and for further education. SkillsUSA was formerly known as VICA (the Vocational Industrial Clubs of America).