Winners of the 2015 National Web Design Contest Announced
The not-for-profit Webprofessionals.org association is pleased to announce the winners of the 2015 National Web Design Contest.
The Web design contest challenged high school and college students from around the U.S. to work in teams of two to a number of challenges that would support a fully functional Web site.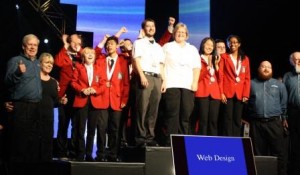 2015 National Web Design Contest Winners:
High School/Secondary
* Gold: Nicole Overman and Colton Fitzgerald Nevada
* Silver: Irena Gao and Leeya Girmay Illinois
* Bronze: Allison Plager and Brian Moreno Oregon
College/Postsecondary
* Gold: Andrew Wernick and Betsey Hijazi Utah
* Silver: Frank Giddens and Crystal Heilaman Missouri
* Bronze: Benjamin Yutzy and Travis Gautier Kansas
Challengers documented their progress as they demonstrated their skills in Web Programming (HTML, XHTML and CSS), Web graphics, Web site design, Web accessibility and usability, Web site management, project management, presentation, Web multimedia and equally important professionalism.
A panel of industry experts from the Web professional community based their winning selection on the following criteria developed by the WebProfessionals.org organization:
* Graphics: Overall Visual Appeal
* Graphics: Mechanical Aspects
* Design and Layout: Look & Feel
* Design and Layout: Navigation
* Programming: Compatibility
* Programming Code Structure & Design
* Scaffolding of Process – Diagram/Flowchart
* Richness of Process – Interview
* Written Exams
* Professionalism – Presentation, Interview and Submission
About WebProfessionals.org
WebProfessionals.org is a non-profit professional association dedicated to the advancement of webmasters and web professionals worldwide.

About the SchoolofWeb.org
As key stakeholders consisting of practicing Web professionals, experienced educators, community and business leaders we have an obligation to do better. We need to challenge one another and commit to a course of action that will improve student outcomes and a better prepared work force for tomorrow's workplace needs.
About SkillsUSA
SkillsUSA is a partnership of students, teachers and industry representatives working together to ensure America has a skilled workforce. SkillsUSA helps each student to excel. SkillsUSA is a national organization serving teachers and high school and college students who are preparing for careers in technical, skilled and service occupations, including health occupations and for further education. SkillsUSA was formerly known as VICA (the Vocational Industrial Clubs of America).