Winners of the 2012 National Web Design Competition Announced
The not-for-profit Webprofessionals.org association is pleased to announce the winners of the 2012 National Web Design Contest.
The Web design contest challenged high school and college students from around the U.S. to work in teams of two to a number of challenges that would support a fully functional Web site.
2012 National Web Design Winners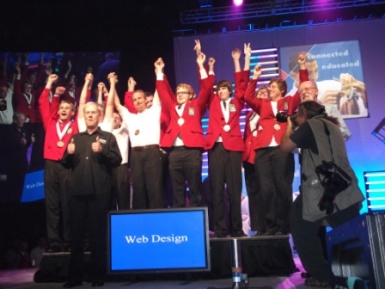 Challengers documented their progress as they demonstrated their skills in Web Programming (HTML, XHTML and CSS), Web graphics, Web site design, Web accessibility and usability, Web site management, project management, presentation, Web multimedia and equally important professionalism.
A panel of experts from the Web professional community based their winning selection on the following criteria developed by the WebProfessionals.org organization:
* Graphics: Overall Visual Appeal
* Graphics: Mechanical Aspects
* Design and Layout: Look & Feel
* Design and Layout: Navigation
* Programming: Compatibility
* Programming Code Structure & Design
* Scaffolding of Process – Diagram/Flowchart
* Richness of Process – Interview
* Written Exams
* Professionalism – Presentation, Interview and Submission
Winners at the Secondary/High School level include:
Gold
David Coutts, Robert Fotino
Lake Havasu High School
Lake Havasu City, AZ
Silver
Jacob Carns, Avery Rawden
Meridian Technical Charter High School
Meridian, ID
Bronze
Nathan Benner and Matthew Sowden
Middle Bucks Institute of Tech
Jamison, PA
Winners at the College/Postsecondary include
Gold
Michael Gifford and Jeffrey Zimmerman
Manatee Tech Institute
Bradenton, FL
Silver
Kristie Haylock and Catherine Rabeler
College of Lake County
Grayslake, IL
Bronze
William Gates and Thomas Ryan
Hutchinson Community College
Hutchinson, KS
$75,000 in education scholarships and prizes were generously provided by the following list of contributors:
* Adobe Corporation
* The Art Institute
* WebProfessionals.org
* Lynda.com
The Web Design Contest provides quality education experiences for students in leadership, teamwork, citizenship and character development. It builds and reinforces self-confidence, work attitudes and communications skills. It emphasizes total quality at work, high ethical standards, superior work skills, life-long education and pride in the dignity of work.